Our Professionals
Learn more about their experience
SEP Professional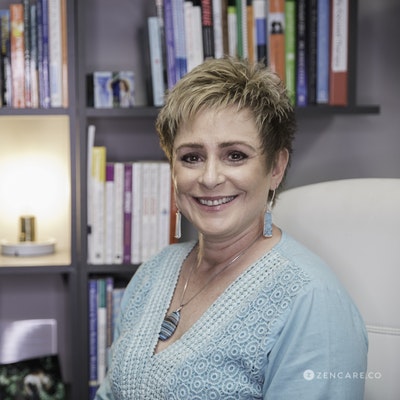 Jennifer Slaughter
LCSW-S, CGP, CDWF, EMDR Certified, SEP
Contact Information
Professional Information
Jennifer is a Licensed Clinical Social Worker and Board Approved Supervisor located in Houston, TX. Jennifer's practice supports those who feel stuck in their lives - whether that's stuck in a negative thought pattern, stuck in a past experience, stuck in a toxic relationship, or stuck in their developmental growth. Jennifer specializes in working with those who have experienced trauma and dissociation, as well as those who feel depressed or anxious to a point where they feel overwhelmed with daily life.

During a session, Jennifer may draw from Eye Movement Desensitization and Reprocessing (EMDR), as well as Somatic Experiencing techniques. Both types of therapy believe that trauma is stored within the brain and the body, and an individual who hopes to recover from trauma must work through their stored images, emotions, beliefs, and bodily sensations. Jennifer helps clients to develop a more curious and flexible view of their thoughts and feelings and supports clients in finding individualized coping skills. She also recognizes that people's lives are filled with relationships and often asks clients to speak about their interactions with loved ones emphasizing perspective-taking and connection. Jennifer helps clients reflect on their relationships, both past, and present, to increase awareness of repeating patterns and possible re-enactments. Her sessions are warm and invite new perspectives, making them especially helpful for those who are in therapy for the first time. Her eclectic style draws from numerous psychological modalities, allowing each client to be seen as the unique individual they are.

Jennifer works with clients of all races, ethnicities, and spiritual and religious backgrounds (including non-religious). She provides queer affirming and gender affirming care and is sex positive (including asexual) and kink positive. Jennifer believes in and respects each person's right to self-determination.

Jennifer earned her Bachelor's degree from the University of Louisiana in Lafayette, Louisiana, and her Master's degree in Social Work from the University of Houston, Graduate College of Social Work. She has over 20 years of experience in the mental health field. Jennifer has worked in a variety of clinical settings with diverse populations, which includes multidisciplinary inpatient psychiatric and outpatient treatment programs, rehabilitation, and long-term care facilities, public and charter high schools, as well as non-profit business management. Most recently, she worked for over six years at The Menninger Clinic, an inpatient psychiatric facility, before entering into full-time private practice.
Type of Services
Addiction, Adolescents, Adults, Adults abused as children, Animal Attacks, Anti-Oppression Trauma Resolution, BIPOC Populations, Complex PTSD, Couples, Criminal Justice System, Developmental Trauma, Dissociative Disorder, Families of Veterans, Grief and Loss, High Impact Falls or Injury, Hospice, Intergeneration Trauma, LGBTQIA+, Medical Procedure Trauma, Motor Vehicle Collisions, Native populations, Natural Disasters, Physical Sport Injury, Prenatal/Birth Trauma, Racial Trauma, Somatic Touch Body Work, Systemic Trauma, TBI/Concussions, Torture, Ritual Abuse, Veterans, Victims/Survivors of Domestic Violence, Victims/Survivors of Mass Disaster, Victims/Survivors of Sexual Abuse, Victims/Survivors of Sexual Assault
SE Advanced Skills
Trained in Somatic Touch Work